Wine Spectator covered a story in its November 2013 edition:  West Coast Wineries Are Up for Sale—Quietly. Here is an excerpt: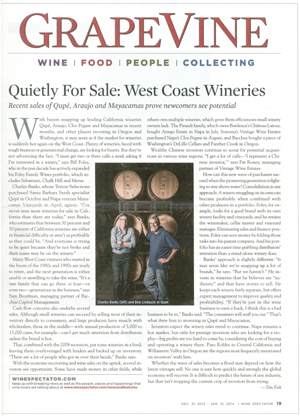 With buyers snapping up leading California wineries Qupé, Araujo, Clos Pegase and Mayacamas in recent months, and other players investing in Oregon and Washington, it may seem like the market for wineries is suddenly hot again on the West Coast. But it's an under-the-radar market. Plenty of wineries, faced with tough finances or generational change, are looking for buyers. But they're not advertising the fact.
According to the people doing the buying, there are plenty of places for sale. "I must get two or three calls a week asking if I'm interested in a winery," said Bill Foley, who in the past decade has actively expanded his Foley Family Wines portfolio, which includes Sebastiani, Chalk Hill and Merus.
That sounds right to Charles Banks, who through investment groups such as Terroir Selections purchased Santa Barbara Syrah specialist Qupé in October and Napa veteran Mayacamas Vineyards in April. "I've never seen more wineries for sale in California than there are today," said Banks, who estimates that between 30 to 50 percent of California wineries are either in financial difficulty or aren't as profitable as they could be. "And everyone is trying to be quiet because they're not broke and their name may be on the winery."
Many West Coast vintners who started in the boom of the 1980s and 1990s are ready to retire, and the next generation is either unable or unwilling to continue. "It's a rare family that can go three or four, or even two generations in the business," said Sam Bronfman, managing partner of Bacchus Capital Management.
Cash flow is another reason for the sales. While small wineries can succeed by selling most of their inventory direct to consumers and large producers have muscle with wholesalers, those in the middle—annual production of 5,000 to 15,000 cases, for example—can't get much attention from distributors unless the brand is hot.
That, combined with the recession of 2008, put some wineries in a bind, leaving them overleveraged with lenders and backed up on inventory. "There are a lot of people who got in over their heads," Banks said.

Read the full story at Wine Spectator