Marketing and technology expert Paul Shannon is the newest member of the Pacifica Commercial Realty team
Pacifica Commercial Realty is pleased to introduce Paul Shannon as the newest member of its growing team. Having prospered through the economic downturn by innovating, Pacifica partners Newlin Hastings and Bryan Beckham continually leverage marketing methods and technology. With the addition of Shannon to their team, they look forward to improving the reach of their online presence and to expanding their range of services.
"We are excited to continue to announce the expansion of our team to help us meet our client's demands throughout the Central Coast," Beckham said. "With the recent hire of Paul Shannon, Pacifica will implement the most updated techniques and marketing programs to ensure our clients have the critical edge in knowledge, marketing, and exposure for their properties."
Hastings agreed, saying, "Paul brings a new online approach to Pacifica. As we look towards 2015 and beyond, Pacifica has positioned itself as a market leader and we look forward to a continued recovery."
Creative marketing & innovative technology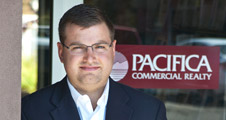 A graduate of San Diego State with a BS in Entrepreneurship and Central Coast resident since 1988, Shannon has spent the last few years developing online marketing programs for local businesses.  As the developer of the successful Access Local Search for Paso Robles-based marketing firm Access Publishing, Shannon has worked with over 150 local business owners. When the partners at Pacifica Commercial decided to launch their wine division website at pasowinerealestate.com, they awarded the contract to Shannon based on his innovation, creativity, and ability to perform.
"This has been a great project, generating traffic from multiple countries including Brazil, Australia, Hong Kong, and Argentina to name a few," Shannon said. "With thousands of unique visitors to the website, we are getting our listings into the hands of international and local buyers. Our goal is to continually improve the reach and functionality of our online presence and offer a unique experience for buyers and sellers of wineries."
In order to serve the wine industry, Pacifica Commercial Realty agent Steve Meixner joined the team in 2012 and created the Wine Properties Division. Since then, he has focused on representing winery and vineyard buyers and sellers. The addition of Shannon to the team, according to Meixner, will have a tremendous impact on expanding the company's reach.
"Paul is a talented and amazing young man," Meixner said. "Having worked with him to develop our pasowinerealestate.com site, I have first-hand knowledge of his experience, expertise, and professionalism – he is a great addition to our team."
"I have always been interested in real estate," Shannon said. "I have the ability to help business owners improve their marketability, whether that means finding the proper building, taking a look at their need for a lease, or any number of real estate options. I am looking forwarding to bringing a 21st century marketing technique to Pacifica and our interactions with clients, with the added dedication of lending a personal touch in order to meet their real estate needs."