New American Viticultural Areas are planned for Paso Robles
Wine drinkers could see new geographic labels on their Paso Robles wine bottles if a current proposal goes into effect. The Paso Robles American Viticultural Area (AVA), could be split into 11 distinct appellations. The Alcohol and Tobacco Tax and Trade Bureau, a division of the US Treasury Department, is proposing to establish 11 new viticultural areas within the existing 612,000-acre Paso Robles viticultural area in northern San Luis Obispo County, Ca.
The proposal comes in response to 11 petitions submitted simultaneously by the Paso Robles American Viticultural Area Committee, a local wine industry group whose 59 members cumulatively own or manage over 10,000 acres of vineyards within the proposed viticultural areas. TTB designates viticultural areas to allow vintners to better describe the origin of their wines and to allow consumers to better identify wines they may purchase. In Notice No. 140, a notice of proposed rulemaking published in the Federal Register on September 20, 2013, TTB proposes the following new viticultural areas:
The 11 new proposed AVAs
Adelaida District
Creston District
El Pomar District
Paso Robles Estrella District
Paso Robles Geneseo District
Paso Robles Highlands District
Paso Robles Willow Creek District
San Juan Creek
San Miguel District
Santa Margarita Ranch
Templeton Gap District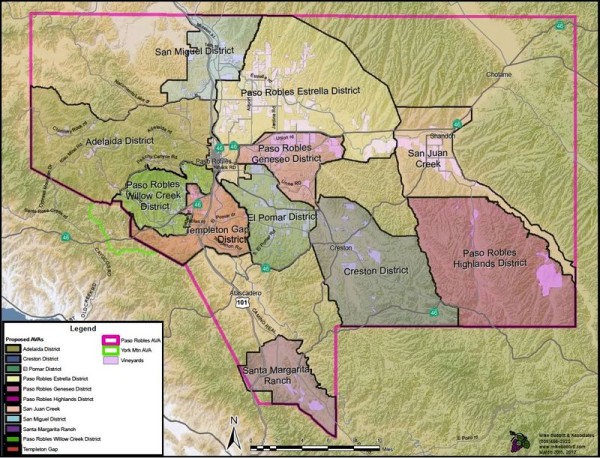 The wine-grape growers request is another step by producers to improve the region's reputation. It is hoped that political infighting can be avoided via the unusual tactic of submitting all 11 applications at once. In a previous attempt to split up the Paso Robles AVA, the California State Assembly got involved and opposed a a proposed break-up in 2008.
'We wanted science to prevail over politics in defining the boundaries of the new appellations,' said Steve Lohr, chairman and chief executive of J. Lohr Vineyards & Wines, the largest producer in the Paso Robles American Viticultural Area (AVA), in the trade publication Decanter.com. 'And we wanted to avoid future boundary skirmishes and confusing overlapping appellations that can occur when AVAs are proposed one at a time,' he told the publication.
Lohr said the Paso Robles AVA is 'one of the most diverse series of soils of any winegrowing region in the US'. There is often a 40 to 50 degree daily temperature swing during the growing season and a variation of 10 to 30 inches of average annual rainfall.
Currently Paso Robles Wine Country is an official American Viticultural Area (AVA) located in northern San Luis Obispo County, CA. It has about 26,000 vineyard acres planted with wine grapes, and is well known for its heritage varietal Zinfandel, Rhône-style wines, and blends and styles that are unique to Paso Robles Wine Country. It was established in 1983, borders the Santa Lucia coastal mountain range to the west, Monterey County to the north and Santa Margarita to the south.
Source: Paso Robles Daily News